Do you ever have those times in your life when you are ready for a new version of yourself?  Maybe you go from brunette to blond or try a bold lipstick or switch all the furniture around in your living room for a new vibe?  Well, Scheme was ready for a new look!  Over the last 18 months our business has grown and developed in all sorts of ways.  We've added to our team in the office, we've launched our sister company Welcome Bag Shoppe, we've adjusted the way we design weddings and we were ready for a brand and website that reflected our new style!  In July we started working with Hello Monday for a new logo and website.  There were tweaks, revisions, edits and we settled on something timeless.  A logo that shows sophistication and maturity but that would blend well if shown next to a wedding full of bright colors or a wedding with muted tones.  We've stuck with our signature grey color that we've used since our launch years ago.

Once we had our new logo we were ready for a redesign on the website.  Grey and gold coloring serves as the backdrop for new, beautiful, l.a.r.g.e pictures on our homepage.  You've probably heard us say it before…we love our couples!  And there is nothing like a couple engaged and in love that is about to become a couple finally married!  Our new homepage features some of our favorite faces and details: Kelly & Matt at the Four Seasons with their wedding party, Kelle & Morgan during their ceremony, Hannan's hand henna from her Indian wedding at Wynn Las Vegas, colorful furniture from Adrienne & Billie Joe's reception, Yhaira & Jared's breakfast treat, Scott's brother & father in smiles and kilts and Marquita & Simon enjoying lion dancers at their Bellagio wedding!  A huge Thank You to all these couples for being our Cover Girls and GQ Guys.  We love you!

The next major facelift was to our About Us page.  Our new Scheme bio gives a bit more background about us and who we are as Las Vegas Wedding Planners.  We design beautiful weddings that are a true reflection of our couples.  They are filled with personal details, beautiful floral and styled to fit the venue.  Our weddings are diverse and varied because that's exactly who are couples are!  We aren't a one tricky pony wedding planner–you won't see the same concepts over and over.  You'll see ranch weddings, hotel weddings, glamorous weddings, eclectic weddings and more!  We deliver on just about any design and do it with style!  Keep reading further below to see all these shown in our portfolio page…
Thanks to the genius skills of Amelia C & Co. we were glammed up for new head shots!  Admittedly, we are a bit camera shy.  But get us joking and laughing with Jodi of J. Anne Photography and before you know it she had the shots and we were done!  With our new head shots we updated our individual bios with some fun facts.  Check out the page to find out if Traci loves red or white wine, what Tara's love language is, who Rissa wants as a BFF and what Francesca considers a lifeblood.

On to the Portfolio page!  We wanted to do something new and display weddings in a more interesting format.  Each wedding portfolio is formatted as a wedding album.  Full page spreads tell the story of each wedding and feature details unique to each couple.  This is where our variety of wedding styles really are portrayed.  Each wedding has a different vision and concept–we love when couples throw words at us like: festive, glamorous, colorful, luxury, elegant, playful, unique, non-traditional, sophisticated, rustic, timeless, rockstar, romantic, modern…we'll make any of them happen!  One thing you may not see much off?  The 'b' word.  Bling.  For too many years, brides requesting bling have ended up with gaudy crystal votive holders, cheesy draped strands of crystals, cheap rhinestone accents and that's not our scene.  If you're looking for bling, let's do it the right way.  Contact us and we can lead you in the stylish direction 😉  Another section of the portfolio features our published Styled Shoots.  We love the opportunity to play with design ideas and create concepts for these shoots.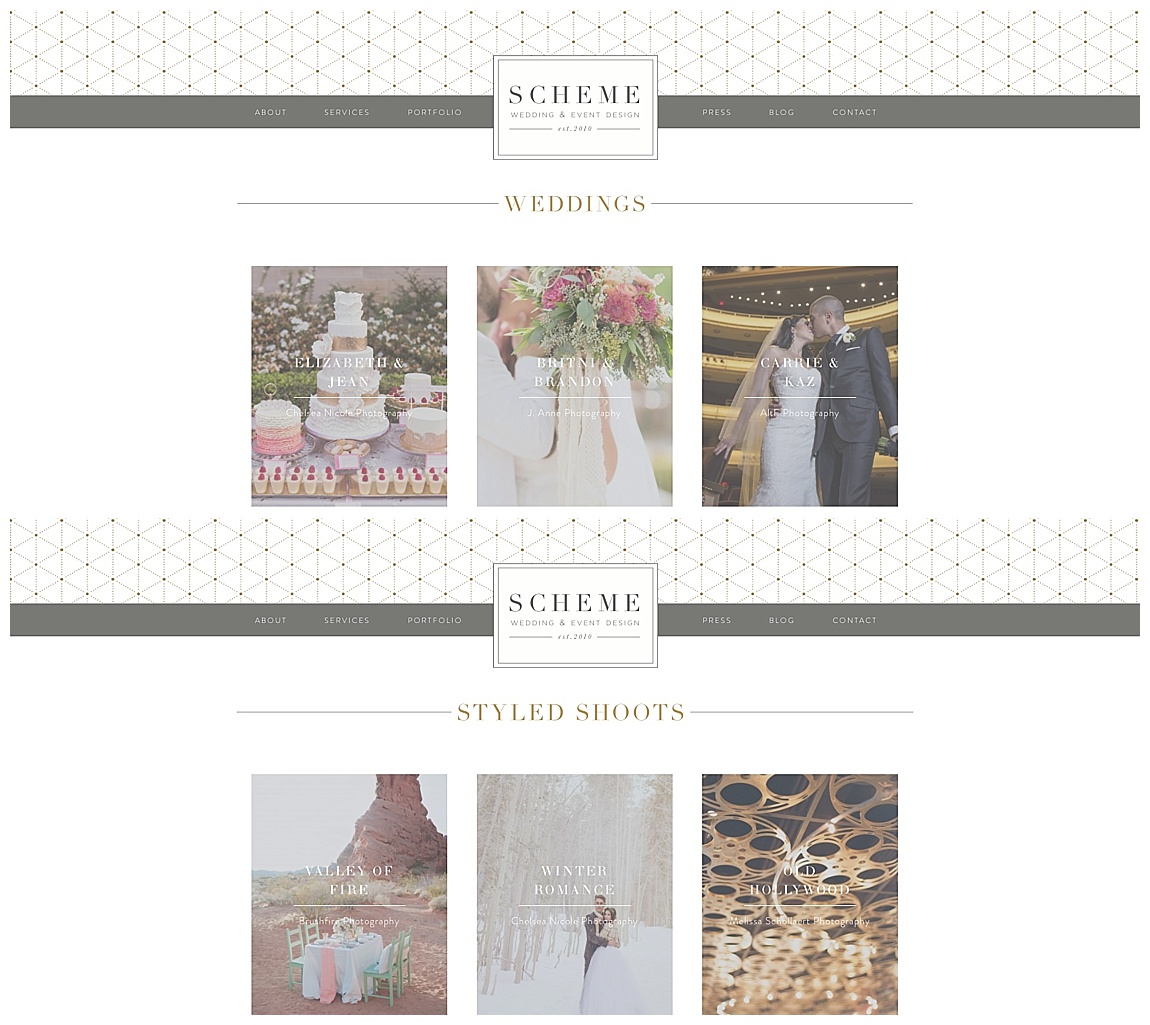 Our Press page highlights our published features, stop by the Services page to learn more about the ways we can work together, for updates on weddings in Las Vegas check the Blog.  Our blog posts go live every Tuesday and Thursday and include real weddings in Las Vegas, Las Vegas engagement pictures, Wedding Tips & Advice and much more.  And of course, head to the Contact page to get in touch.  We'd love to hear more about your dream day and welcome you to the Scheme family!  Lastly, we would never be able to create such wonderful wedding days without our team of amazing vendors.  You guys are talented beyond belief and we appreciate you working with us on busy timelines, crazy ideas we've concocted and making our couples wedding day dreams come true!