Recently, the Scheme Team went to Malibu for a Wedding Industry Professionals Association (WIPA) luncheon at the beautiful Church Estate Vineyards. We learned from a panel of top industry professionals,  including Rebecca Crumley of The Knot, Allison Kornberg-Walch, Dana LaRue aka Broke Ass Bride and Katrina Razavi of marriage.com.
Take a look below to see some of our favorite things from the day in Malibu.  
A map of the vineyard was a must, as we did a lot of walking in those stilletos of ours!
We started the day off with a cocktail hour by the grapevines. Choices of a specialty cocktail and house wines were available.
Look at that view! Church Estates is literally right across the street from the ocean. Amazing.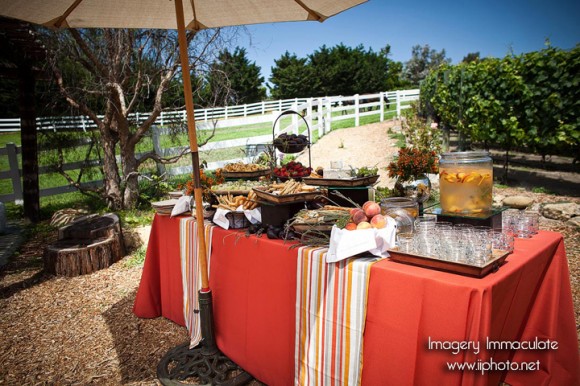 We enjoyed music during the cocktail hour by Masa Music. Then it was off to the presnentation from the speakers.
Form Decor provided beautiful white chairs and couches for guests to sit on during the presentation. We loved the white pop with all the decor!
These stunning tents were provided by Raj Tents, which added a bright and vibrant color to the green grass and trees we were surrounded by not to mention the much needed shade from the warm California sun during the presnetation.
Each tablescape was beautiful. The linens were soft and unique, the menus were hand made and let's not forget to tell you about the Truffles for dessert… so delicious! Food provided by the amazing, Good Gracious!
Yes, that is what you think it is… The Fry Girl herslef! She made fresh doughnuts for us on the spot with our choice of toppings. If you know the Scheme girls… you know we love our food and fresh mini doughnuts is a way to our hearts. Just looking at this picture makes our mouth water and want to road trip back to California!
We are so thankful to have had the opportunity to attend WIPA. We are looking forward to the next time we make it out to California to see all the amazing people that we met and to learn more from them!
{Photos curtosey of Imagery Immaculate}