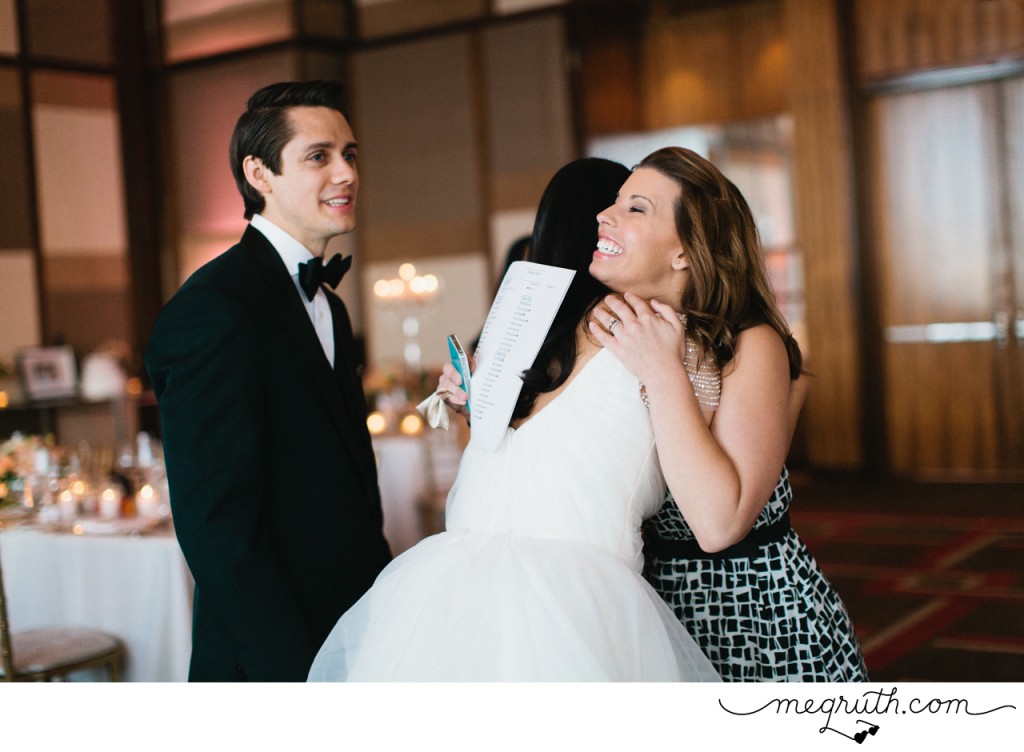 Put the Clipboard Down and Enjoy the Amazing Party You've Planned
You will cherish forever the fact that you hired a Las Vegas wedding day of coordinator, we guarantee it. You've dedicated all your free time to scouting the perfect venue, tasting and selecting your menu, designing your invitations, selecting your favorite flowers, interviewing vendors, collecting RSVPs, finalizing your table assignments and much much more, so why not put the clipboard down and enjoy the amazing party you've planned. It is a celebration in honor of you and your fiancé. You're the bride! You're not the planner anymore. Leave that to a professional. p.s. Your mom and maid of honor are guests at your amazing party, not your event staff. 
Hiring a Day of Coordinator
When selecting your day of coordinator it is most important to find someone you trust, who is familiar with your vendors, who has worked at your venue before and who ultimately understands your vision. You can rest assure that Scheme takes every step to ensure the dream wedding you have been scheming for months will be executed as planned. In order to do so, we begin our day of coordination 4 weeks before your wedding day. We have you fill out a quick questionnaire to get initial information which then leads to an in-depth phone, Skype or coffee meeting to go over every last detail. We then do a site visit to envision your wedding day with you. A production schedule is created and becomes the say all to your event. We attend rehearsal and finally, on your wedding day, we take care of everything while you enjoy a mimosa stress free with your bridesmaids!
The Unexpected
When we say everything, we mean everything plus the unexpected. A day of coordinator understands you can only prepare for so much. A great day of coordinator responds to tough situations with a quick solution, most times avoiding any evidence or hiccups. So, the girls and I thought it would be fun to share some of the most unexpected things we've dealt with and faced fearlessly to ensure our bride's day continued as planned.
Carefully detaching 25+ jumping cacti from a bridesmaid's dress after the ceremony
Carpooling 10 mariachi band members from one hotel to another
Chasing Chinese lanterns down the street to avoid setting a tree on fire
Calling an ambulance and playing nurse for FOB who became extremely dehydrated
Escorting FOG out of reception after a foul incident that involved the Las Vegas Strip and spew
Having a gun pointed at you while trying to rectify a situation
Stalling the entire wedding after bride had a reaction to her makeup
Switching entire reception location due to extreme winds
Singing at the ceremony when the power went out
Sewing back together the wedding dress
Does your Venue Need a DOC
If your wedding is taking place at The Smith Center, Springs Preserve, Legends Ranch, Historic 5th Street School, Neon Museum or World Market Center we highly recommend a Las Vegas day of coordinator. We absolutely love these venues, but they are logistically difficult. You'll only benefit from having someone on your side who knows the ins and outs of these amazing venues.
Venue Coordinator
We look forward to working with great venue coordinators. They are wonderful and make our job easier. However, we work best as a team. Venue coordinators are responsible for their contracted services, such as, ensuring the venue is clean, prepared and ready for decor setup, providing flatware and glassware, ensuring food and service are timely and above standard and becoming the liaison between your DOC and the chef. Your DOC sets your decor, answers all the tough vendor questions, walks you down the aisle, cues the DJ, prepares your best man for his toast, explains etiquette, answers guests' questions and is by your side throughout the day. Simply put, we work for you, your venue coordinator works for the venue, together we are a great team.
Scheme Love
One of our past brides shares her experience with Scheme! "Choosing Scheme Events for our day of coordination services was definitely one of the best wedding decisions we made! Our primary coordinator, Rissa, was an absolute rock star! Her attention to detail deserves an A+. I too, am a very detail oriented person (which is why I knew I would definitely need someone qualified to take that responsibility off of my hands on my wedding day if there was any chance of me not being a stressed bride)- and I have to say Rissa was just the right gal for the job. It was SO helpful to have her review all of our vendor contracts, develop a nicely detailed production schedule, and reach out to each of our vendors a week or so prior to the wedding to ensure everyone was clear on their responsibilities, arrival times, etc. She was also able to give me great experience based advice on some things I couldn't quite make my mind up about, as well as some excellent vendor recommendations when needed. Rissa, Tara, and Madison were all present to assist on our wedding day, and in a word were just- FABULOUS! I cannot thank those ladies enough for all they did to assist and ensure our ceremony, cocktail hour, and reception ran as smoothly as possible, and close to schedule."
Please contact us today to share your vision for your wedding day and prepare to let go of the clipboard. You'll be so happy you did. We look forward to hearing from you. Much love!