Oh how I love a couple who is willing to step outside the box to make what seems a logistical nightmare a dream come true! Kate had a vision and just a few months to pull it off. Here is where I step in to pull favors, puzzle the pieces together and hire vendors who will go above and beyond to create an unbelievable experience for Kate and Justin's guests. The day began at the dock where guests were invited to meet. Guests had no idea that they would be enjoying light refreshments on a darling Duffy Boat in Lake Las Vegas. Personalized gift bags filled with ceremony goodies such as rose petals, ribbon wands and blow horns told each guest which boat they'd be boarding. Boat captains greeted their guests and once everyone was seated, we were off.
After a relaxing 15 minute boat ride along the beautiful Lake Las Vegas, guests spotted Kate and Justin in the near distance waving from a small dock. Guests cheered and hollered in anticipation for the ceremony. The couple with their closest friends and family exchanged their vows on a gorgeous bridge while guests floated below in the Duffy Boats. On cue, all the guests showered Kate and Justin with rose petals, made lots of noice and congratulated the couple as they kissed their first kiss as husband and wife.
Once guests returned, they were invited to a reception hosted at Hilton Lake Las Vegas complete with Kate's Martini Lounge and Justin's Cigar Bar. Each lounge included CORT Furnishings and specialty drinks to create a real personalized cocktail hour. In Kate's Martini Lounge you could find martinis topped with dry ice, luxurious white seating and a hanging crystal chandelier. In Justin's Cigar Bar, you could find draft beer and scotch, an authentic Cuban cigar roller and leather seating for days. Guests truly enjoyed their time!
Kate and Justin then hosted their guests to a delicious plated meal finished with each guests' own mini wedding cake served on a vintage dessert plate. Darling! Guests danced the night away to a family favorite band, JLove, who created the most perfect jazz nightclub feel under the stars and bistro lighting. Don't forget to book a live wedding band for your event, if you want to turn your wedding party into one of the most memorable events of your life. At the end of the night, I couldn't have thanked my team enough for helping me pull this amazing wedding day off. Love them and love Kate and Justin for trusting my recommendations to ensure the day went smooth. I had a blast with this challenge and I look forward to continuing to create personalized days for all my couples.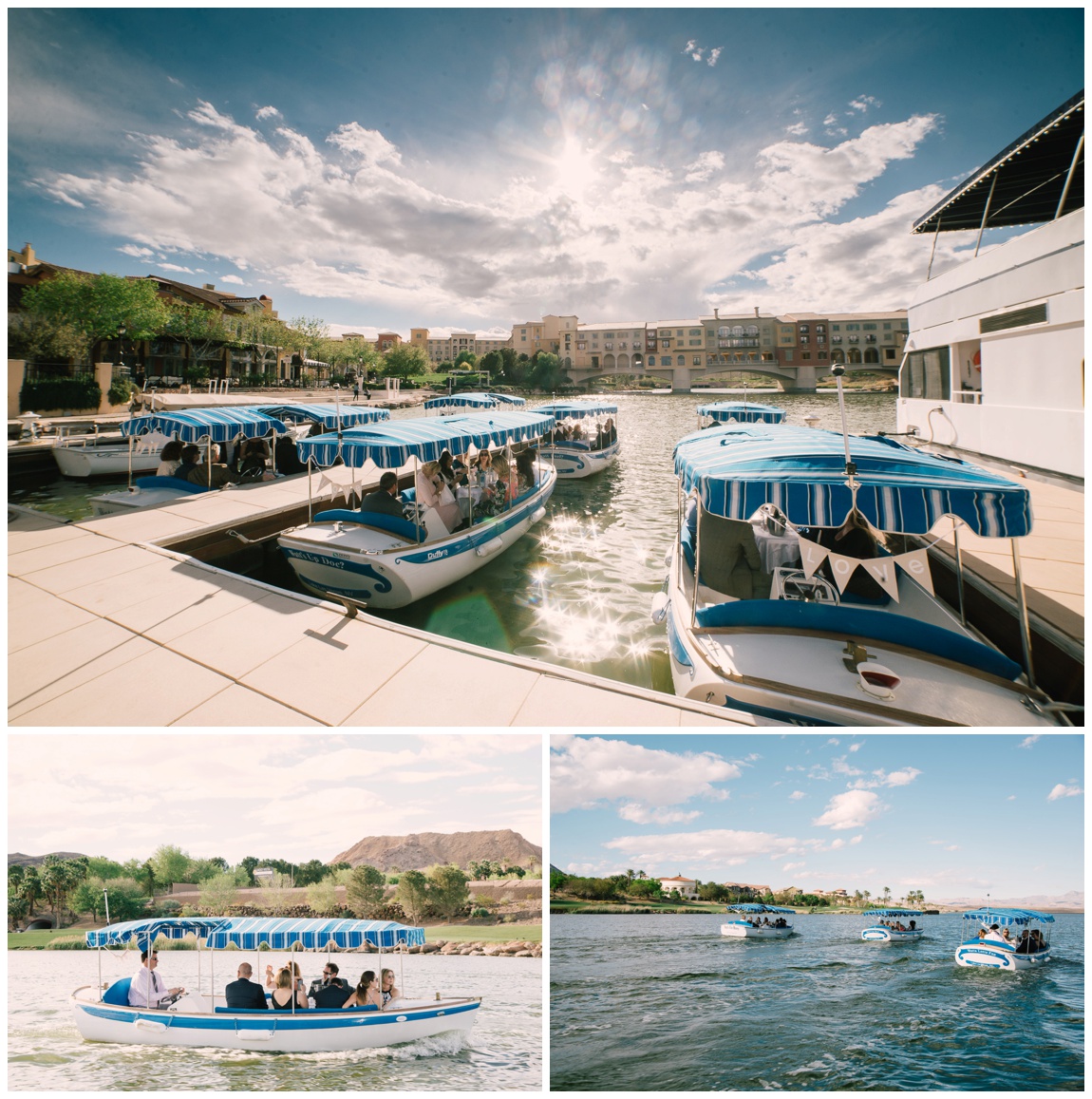 Las Vegas Wedding Planner and Designer: Scheme Events | Photography: IvanDiana Photography | Duffy Boats: Duffy Boat Las Vegas | Venue: Hilton Lake Las Vegas | Furniture: CORT Events | Cigar Roller: Spirit of Cuba | Rentals: RSVP Party Rentals | Linens: BBJ Linens | Floral: The Palette | Lighting: LED Unplugged | Mini Cakes: Sweet Treats | Vintage Plates: Dirty Dishes | Ceremony Witness: Judy Irving | Hair and Makeup: One Luv | Band: JLove | DJ: Next Level Sounds |  AV: AV Vegas