I vividly remember meeting Kyle and Andrew for the first time. I was smitten by their love and respect for one another. They met at a climbing event in Nevada and bonded over their unique upbringings. Kyle was born in Germany, raised in Ohio, New York, Maryland, Pennsylvania, Virginia, Texas, California, Kansas and Germany again. Andrew was born in Michigan, raised in Hong Kong! However, their hearts belong out west and proudly own their home here in Las Vegas. Their love for the outdoors lead them to Springs Preserve where they hosted their friends and family to a beautiful wedding day.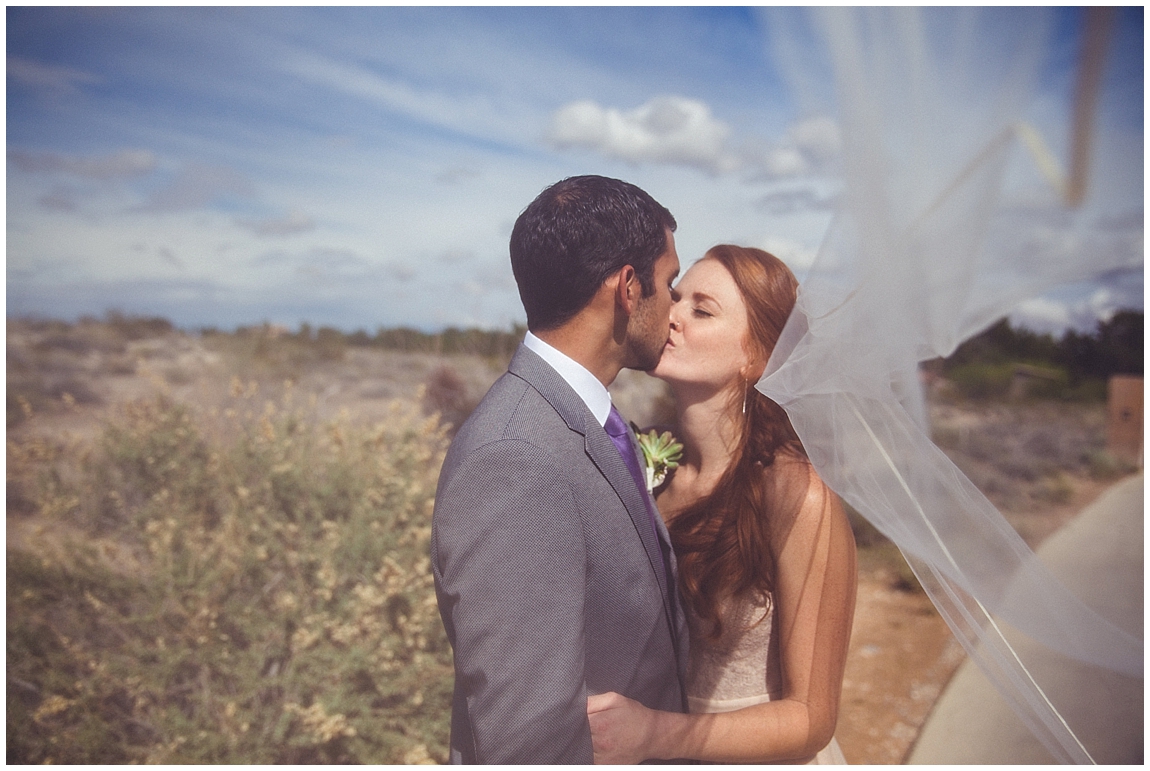 The DIY touches in this wedding deserve a round of applause! The mother of the bride and her best friend ran with whatever idea I threw at them. The execution was more than I ever imagined. They created succulents in copper tins, all the beautiful hanging signage, the photo booth backdrop, table numbers, stationery, escort card display, guest book table and much more. All the personal touches paired with our amazing vendor team was a dream come true.
The guests were thought of at every turn. They were greeted by a welcoming smile and handed a ceremony program complete with a to do list, including asking Uncle John to tell them about a hunting story beginning with "So there I was…" Their ceremony included readings from their family members and was officiated by a dear friend who shared wonderful stories of the two of them. Kyle and Andrew spent cocktail hour greeting all their guests and taking photos with almost everyone. Guests were gifted a copper keychain with their name stamped and were encouraged to pick a postcard from Kyle and Andrew's travels to leave advice, encouragement and love for the couple. The night was magical and a ton of fun!
I leave you with some fun facts about Kyle and Andrew. Their first call was on a satellite phone. Their first text was a Star Trek reference. Taco Tuesdays, stir Fridays and dim sum Sundays are a thing. They wrote dozens of postcards to each other in their first year together. They'll spend their honeymoon on a month-long climbing road trip in the Pacific Northwest! I'm so glad our working relationship turned into a lifelong friendship.
Wedding Coordination & Design: Scheme Events | Photography: Leah Evans Photography | Venue: Springs Preserve | Caterer: Divine Events | Floral: Layers of Lovely | Entertainment: Mike Fox & Co. | Cake & Cupcakes: Peridot Sweets | Lighting: LED Unplugged | Brides Makeup: Amelia C & Co. | Rentals: RSVP Party Rentals