I have been staring at these images for a month knowing that this blog was about to be live. I remember the night I saw the email from Adam Trujillo with the photos. I was at a show downtown and the instant I saw the email, I couldn't focus on anything but the photos. Blogging this wedding makes me tear up just a little as it means it is over and all I have left are the memories of this wedding and amazing couple. They will last a lifetime and I hope the love these two have for each other amazes you as much as it does me.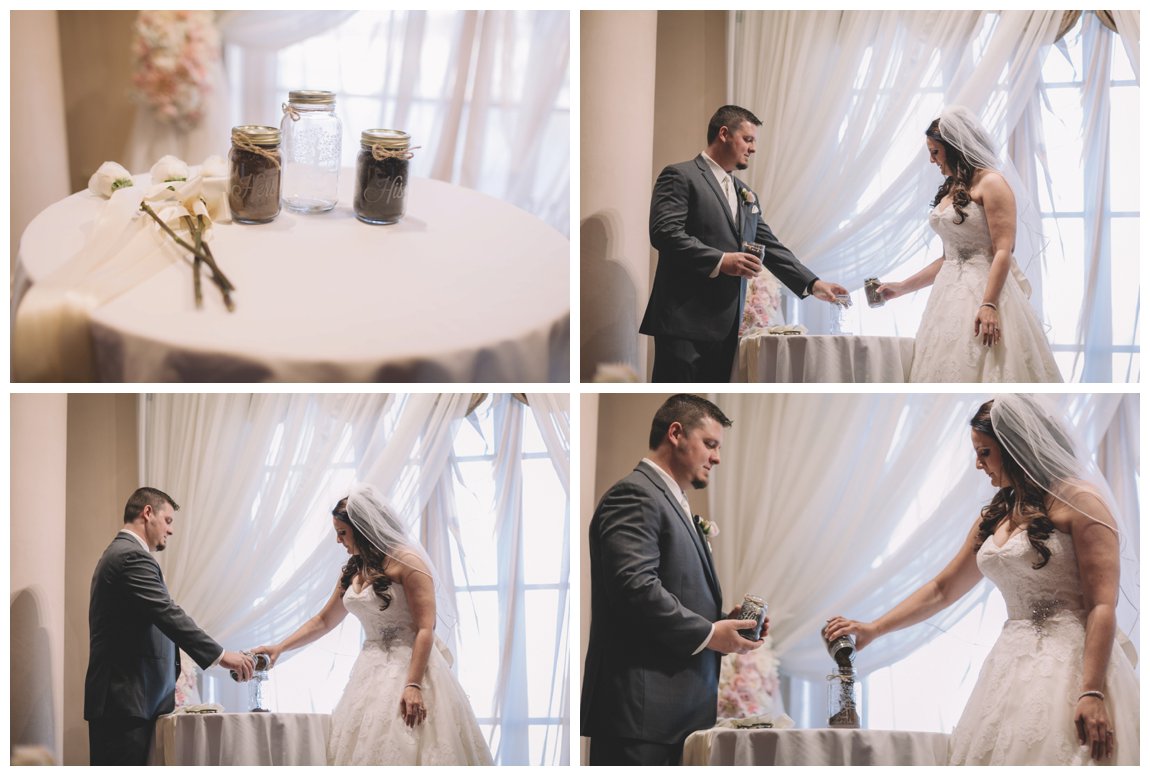 Let me give you a little information on this amazing couple. Tracey & Adam met in Connecticut working for the same company. What started out as a friendship, quickly turned into something much more. Adam took a job in Las Vegas, Tracey quickly followed. Fast forward to the wedding planning process and you get meetings that turn into hours that turn into dinners and drinks and nights out on the town together. I adore this couple with every fiber in my body and am so happy that I am able to call them friends.
When Tracey & Adam came to me to help plan their wedding, their consultation lasted almost two hours we were having so much fun talking and learning about each other. Tracey wanted a romantic garden wedding and they both wanted to show their guests and family a different side of Las Vegas that they wouldn't expect. Que Lake Las Vegas; The Hilton was the perfect spot for Tracey and Adam to tie the knot. With the gardens at the Hilton filled with lush green, Tracey gets her garden feel and words can not describe how amazing their chapel is for ceremonies. Tracey and Adam were married by independent catholic priest, Father David St. John in this little romantic chapel. Following the ceremony, guests were greeted in the Florentine Gardens with a beer lovers dream of craft beers, delicious butler passed canapés and stations. Guests mingled and enjoyed the beautiful March weather while filling out anniversary advice for the couple and sipping on some of Adam's favorite craft beers (he is a beer lover!).
Guests were welcomed into the reception with music played by the Lucky Devils Band and every East Coasters need for food galore. The evening celebration started off with a choreographed dance to Ed Sherran's "Thinking Out Loud". Tracey and Adam worked with the ever so amazing Kim Sakren of A Perfect Wedding Dance to make sure their first dance did not disappoint. Kim worked with the couple to recreate the music video's ballroom dance and added a few personal touches too. You can view their first dance video below… it is amazing! As guests dined, drank and ate the night away, a late night snack of bacon on skewers were brought out. Adam is not only a beer lover, he is a bacon lover and wanted guests to have a taste of some of his favorite styles of bacon. What better way to show a part of the groom than have his favorite food at the reception?
Tracey & Adam, I am truly honored to have you be a part of the Scheme family, but I love that you are part of my family now and we can continue our friendship and love of dining out, piano bars and concert going together. I wish you both a lifetime of happiness, love and laughter and can't wait to see your family grow!
………………………………………………….
Las Vegas Wedding Planner: Scheme Events  •  Photography: Adam Trujillo Photography  • Videography: Adam Trujillo Cinema •  Venue: Hilton Lake Las Vegas •  Floral & Decor: Layers of Lovely  •  Hair & Makeup: Amelia C. & Co. • Lighting: LED Unplugged  •  Photobooth: Shutterbooth LV  •  Linen: RSVP & La Tavola • Entertainment: Lucky Devils Band • Officiant: Father David St. John •   Cake: Masterpiece Cuisine