I've been a wedding planner in Las Vegas for five years and in that five years, Scheme Events has been part of hundreds of weddings (yes, we earned our stripes quickly here!).  After witnessing all those weddings, all those loves stories, all those brides and grooms and families…there is still a moment or feeling that brings me right back to the experience of each wedding day.  For Evita & Wega's wedding at The M Resort, it was a point in during ceremony that gets to me anytime I reflect.  And I'm not the only one who noticed it…read below to find out what vendor teared up during the ceremony (you might be surprised!).  Thank you to Orange Soda Photography for documenting the wedding day!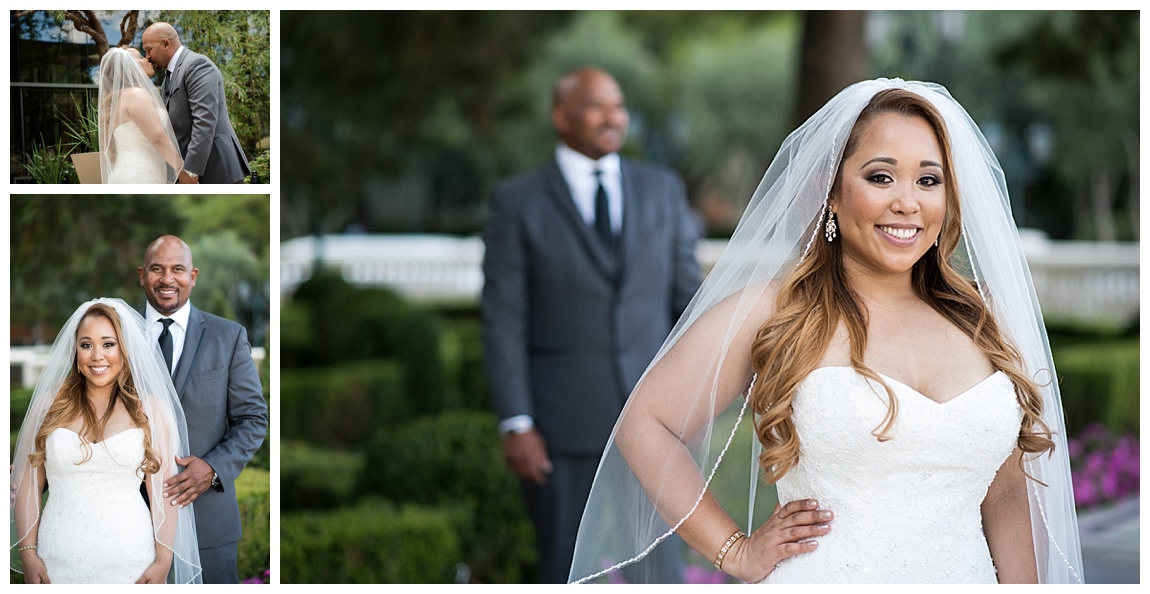 Evita and Wega IG from Isle Media on Vimeo.
Evita and Wega are an all American couple.  Wega is from Boston.  Evita grew up in San Diego.  And they live in Hawaii.  They get the best of all parts of the country!  They choose Las Vegas for their destination wedding and their guests came from all over the world to celebrate.  In true Hawaiian style, you never left a meeting with these two empty handed.  They were always bringing treats, chocolates and gifts from Hawaii!  Evita is an interior designer and knew she wanted wedding colors that were just the right shades of coral, silver, gold, grey, champagne and taupe.  The day was designed with these colors in mind, highlighting each of them in a different way.  The ceremony featured a boxwood wall with the word 'love' hanging overhead and two beautiful white and coral floral arrangements on either side.  Hawaiian singer Mahi (former American Idol contestant!) played the guitar and sang as the wedding party walked down the aisle.  It was this moment that made me catch my breath.  Do you know that feeling in the early morning or late evening on a lake or river or pool–the water has calmed down and a certain stillness takes over?  The M Resort pool had that stillness effect.  The vast pool landscape was quieted with only Mahi breaking the silence playing a beautifully romantic ballad.  After the ceremony, the officiant, Angie Kelly, admitted to me she had tears in her eyes as she approached the aisle listening to Mahi.  It gave me goosebumps to hear that!  Angie felt it too!
When the ceremony was over, everyone moved upstairs to LUX for the reception.  Signature cocktails and hors d'oeuvres were served on the LUX balcony, giving guests the best view of the Las Vegas Strip!  In the reception space, we mixed long kings tables with round tables and varying floral arrangements.  The long tables featured a silver and gold mercury linen with florals and bell jars filled with peaches.  Peaches, tall floral arrangements and mercury glass votives carried the theme over to the round tables.  Custom ombre watercolor menus, escort cards and signage were created by Paper & Home to tie in the coral coloring.  Evita made her own silver glitter lucite table numbers that sparkled along with the linens and mercury glass!  To incorporate Wega's personality we had a fully stocked candy bar. Wega is a self proclaimed candy addict so the candy bar was filled to the max with gummies, chocolate, popcorn, cotton candy and more!  It was an absolute hit with the guests!
Evita, Wega and their friends love to have a good time and enjoy dancing, partying and spending time with each other all over the country.  At the end of the night, the party didn't stop…Wega took everyone to the casino floor and M Resort nightclub, Ravello, to keep the night going.  I've since heard from Evita that their friends think an anniversary party is due every year in Las Vegas–I think that is the sign of a great night and celebration that everyone enjoyed!  I'm so thrilled I was able to be part of it.  As Evita and Wega left town, they (again!) showered us with gifts and cards.  I had tears in my eyes (again!) reading the words she wrote in her Thank You note.  I wish you two all the best and can't wait for our paths to cross again in Vegas, Hawaii or both!
……………………………………………………………………………………………………………
Las Vegas Wedding Planner: Scheme Events | Venue: M Resort Spa Casino | Photographer: Orange Soda Photography | Floral: Layers of Lovely | Invitations, Menus, Programs and Escort Cards: Paper & Home | Silver Table Linens: BBJ Linen Coral Table Linens: Nuage Designs | Lighting: LED Unplugged  | Entertainment: Harry O Productions | Hair and makeup: Your Beauty Call | Chair Rentals: RSVP Party Rentals | Officiant: Peachy Keen Unions | Live entertainment: Mahi with MRS. Events  | Videography: Isle Media | Photobooth: Shutterbooth | Candy table: B Sweet Candy Boutique | Bridesmaid dresses: J Crew