I was thrilled to plan this wedding with Yadira & Matt when they came to us. Yadira wanted a "Gossip Girl" type event; one of those that looks absolutely amazing and was easy to put together. You know the, "Oh yeah, I am throwing another event." feel and with me being the ultimate Gossip Girl fanatic, I was 100% in making this happen for them.
You can tell that this couple is very much in love and enjoys every minute that they spend with each other. This Las Vegas wedding took place in a penthouse at Las Vegas' Palms Place overlooking the Las Vegas Strip on November 3, 2012. The reception was held indoors with beautiful floral provided by Catherine at Layers of Lovely. Here are some photos that we love, we hope you enjoy!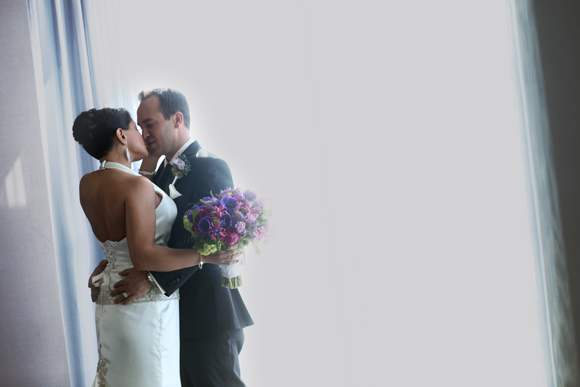 This table makes me absolutely speechless every time I think about it or look at the image. The picture is only a glimpse at how beautiful it was. All of the candles and vases filled with bundles of flowers lit up the entry way of the penthouse. Each bottle placed throughout was their guestbook for guests to write wishes and where they would see the couple each of those years.

Yadira & Matt customized bottles of wine for each of their guests to take with them as they left the event so they could remember the wedding and toast to them when they opened the bottle at home.

Nothing better than a surprise guest at your wedding! A Michael Jackson impersonator entertained guests before the cake cutting with three songs and of course… dances.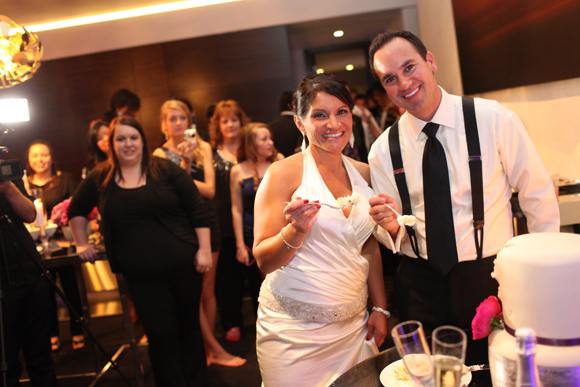 Click here to view their video!

matthew + yadira from England Productions on Vimeo.
 Congratulations Yadira & Matt! We are honored to have been a part of your wedding! XOXO, Traci
Event Planning and Design: Scheme Events • Photography: Tempting Weddings • Videography: England Productions • Flowers: Layers of Lovely • Ceremony & Reception Location: Palms Place– Penthouse A • Cake: Simple Elegance in Cake Design • Lighting: LED Unplugged • Officiant: Angie Kelly of Peachy Keen Unions • Michael Jackson Impersonator: Jalles Franca/MJ the Legend