One of the best parts of being a wedding planner in Las Vegas is getting to work with so many destination couples that come here to celebrate with friends and family.  We have the opportunity to learn about their culture and traditions throughout the planning process.  Sweater and boot weather in July?  Heading to the Outback?  Yes, Ashley & Danny live in Australia and it still blows our mind that Christmas can be celebrated on beaches in the heat 🙂  Ashley comes from a background in performing on stages around the world and influenced her art deco Westin Lake Las Vegas wedding with flourishes of feathers, crystals and Gatsby-esque details.  Even more details are featured on the destination wedding blog, Jet Fete!

 Not only a talented performer, Ashley is also an expert crafter and became very busy creating stage worthy programs, menus, table numbers and favors.  The wedding colors of blue and yellow stood boldly against the backdrop of beautiful Westin Lake Las Vegas.  A custom made wedding dress consisted of a structured corset top and not one, but two coordinating skirts.  Guests enjoyed smooth jazz sounds coming from the band while the sun set over Lotus Court for this Westin Lake Las Vegas wedding.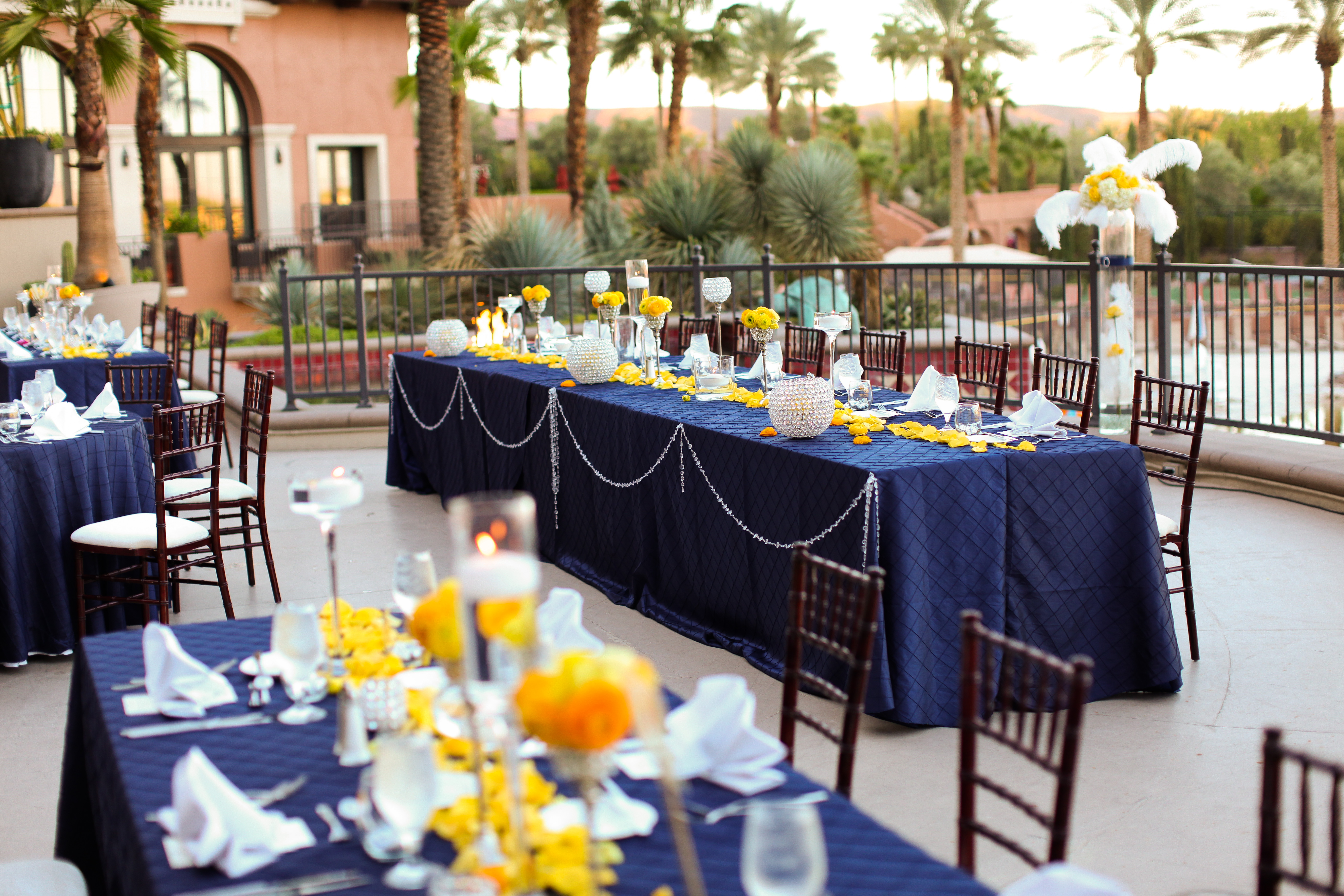 After months and months of planning with a couple, it puts a smile on your face to see them say their "I Do's" on the wedding day and dance the night away.  They were surrounded by a fantastic bridal party, loving family and supportive friends.  We were sad to see them leave, but they've promised to return to Vegas on their 1 year anniversary to relive all the best wedding memories.
Coordination & Design: Scheme Events • Venue: Westin Lake Las Vegas • Photography: J. Anne Photography • Flora: By Dzign • Crystal rentals: Bob Gail • Entertainment: Las Vegas Wedding Music • Brides hair and make up: Westin Lake Las Vegas Salon • Bridesmaids hair: Amelia C & Co. • Tuxedos: Al Phillips • Lighting: Swank Audio Visuals • Cake: Gimme Some Sugar • Officiant: Judy Irving