In October of 2011, we coordinated the wedding of Tara and Jay at Ravella at Lake Las Vegas. Natasha did an amazing job on Tara's makeup and made her look absolutely breathtaking! We instantly knew that we wanted to work with Natasha and get to know her better. We reached out to Natasha in February to see if she would like to do hair and makeup for the model for the Valley of Fire photoshoot during WPPI. Yet again, Natasha blew us away with how amazing the model looked for this photoshoot. Read below to get to know Natasha a little bit more.
"I am a professional makeup artist providing on location makeup and hair services for any occasion. I specialize in makeup for photography, airbrush and body painting.  As an artist I love many styles of makeup but I pride myself on doing clean, flawless beauty makeup.  I've been in business as a freelance makeup artist for approximately a year and a half but I have over 8 years of experience in the beauty industry."
What are three blogs or websites you use for inspiration?
I look at Green Wedding Shoes, Calligraphy by Jennifer on Facebook, Pinterest,  and  The Knot for wedding trends and inspiration.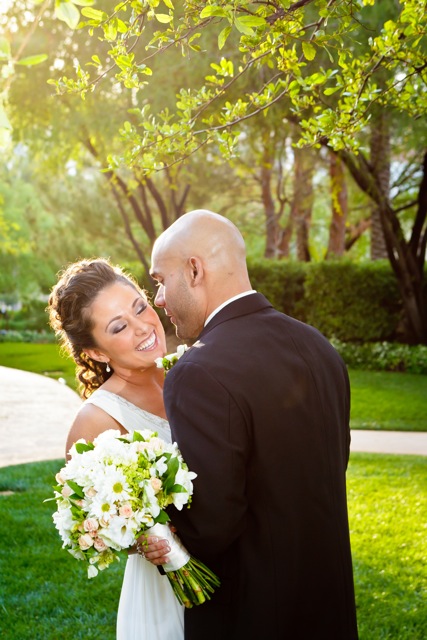 What are the benefits a bride will experience when using your services?

I want brides to know that it is just as important to use professional makeup artists and hair stylists as it is to use a professional photographer.  When you look back at the pictures of your wedding day you want your look to be flawless, as well as timeless.  It's important to use a makeup artist who understands lighting and the concept of makeup for photography.  You want to look your absolute best with beautiful makeup and hair that enhances your look.  I only use the best and longest lasting products made specifically for optimum results in photographs.
Describe your process of working with a bride.
When I'm working with a bride I like to build a personal relationship with her.  I prefer to do a trial run so I can meet the bride prior to her wedding date, get to know her personality, learn about the theme of the wedding and what she envisions looking like on her wedding day.  If that is not possible, I like to communicate with her and get all the details for her wedding.  I also prefer the bride to show me inspiration pictures of hair and makeup so we are on the same page.  I want my bride to feel as comfortable with me as possible. From there, I just do what I love and make her look and feel gorgeous!   When she feels confident about her makeup and hair on her wedding day, it makes her feel that she is looking her best, and that is one less thing she has to worry about.

Let's play loaded questions with Natasha.
What are some of your hobbies outside the wedding industry?
Some of my hobbies aside from the wedding industry are traveling, art, history and learning about other cultures.
What food do you think should have its own category on the food guide pyramid?
I think that dessert should have it's own category on the food guide pyramid!

What is the strangest part of your morning or nighttime routine?
Every night before I go to bed I check out my skin in the mirror and make sure I don't have any impurities and I tweeze my eyebrows.
What is the best thing you've spent money on recently?
The best thing I recently spent money on was my first trip to New York City.  I went to attend the New York Makeup Show because I entered a photo in their contest and it was being displayed for the weekend.  I won the contest, took some very inspiring classes and It was amazing trip!
What is something you wish you could do every day?
I wish I could make people feel good about themselves through making them feel beautiful each and everyday!
Contact Natasha at [email protected] and visit her website at www.natashachamberlin.com.