Creative Coverings has been a favorite of ours from our early days. Their personalities, selflessness, custom service and creativity are just a few of their wonderful traits. Erin, our sales representative in Las Vegas, is truly a sweetheart and we are always looking forward to seeing her at the next networking event or bride meeting. Creative Coverings has the ultimate Scheme linen that we couldn't live without for our 1st birthday. Thank you Erin for getting your black and white striped linen just in time to complete our party's decor. Please read below to learn more about this great company, insights into new trends and some tricks of the trade.
Creative Coverings is a national Special Event Linen Rental and Sales Company serving the event and event-planning industry. Founded in 1996, the company provides tablecloths, runners, chair covers, napkins, sashes and Chiavari chair caps made of the finest fabrics for rent and sale for weddings and events.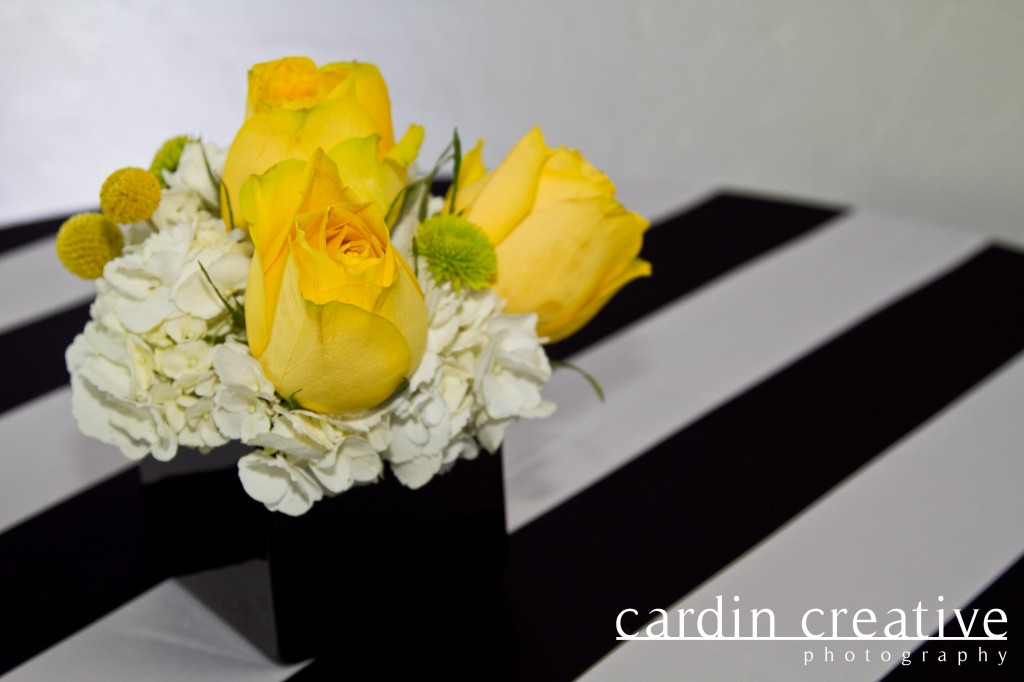 Creative Covering's 2012 Trends in Colors, Textures and Prints
Color of the Year:  Tangerine Tango – Not only will you see this color on the fashion runway, but in cosmetics, home decor and wedding/event design!  This fiery reddish orange hue is dramatic, yet sophisticated…a color that will radiate this Spring/Summer and into Fall 2012.
Spring/Summer 2012 colors: tangerine, mustard, fuchsia, lavender, lilac, rich navy, sage green, Tiffany blue, silvery grey, khaki brown, and blush pink.
Dupioni's & Shantungs (Can be found in reversible forms)
Textured Poly-Taffeta's (Fortuny, Bengaline, Ribbon Taffeta, Pintucks)
Rosette's and Versions of…(i.e. Luxury Organza)
Metallics & Sequins
Lace (Traditional, Cut-outs and Braided)
Brocades & Jacquards (traditional rich colors)
French Toile
Plaids, Ginghams & Houndstooth
Creative Covering's Tricks of the Trade
Mixing Textures and Patterns
Mixing table sizes, heights, chair types and fabrics in the room
Mixing centerpiece (heights and types), dishware, flatware and stemware
Adding drapery in fabrics that pair well with tabletop design
Use lighting to create room fullness and add dramatization
Accessorize with fun napkins and sashes
Sashes can make a great inexpensive runner
Photos courtesy of Creative Coverings
Let's Play Loaded questions with Erin and Nancy! 
What are some of your hobbies outside the wedding industry?
I love being in the kitchen and often cook for my close friends and family.  I also volunteer in several community outreach programs for women.  I enjoy bekrim yoga, ballet class, art and design, and taking my little puppy Elvis to the park.  I mostly travel during the summer with my girlfriends, and usually schedule my trips around an awesome concert that I want to catch.  -Erin
What is something you wish you could do every day?
Fall in love.  And sit in the sun and draw patterns all day long of different textile designs I plan to create! -Erin
What is something you're simply not good at?
I don't take "No" for an answer. Ever. -Erin
What is the strangest part of your morning or nighttime routine?
I am a 32 year old woman who still has to wear a retainer to bed. -Erin
What food do you think should have its own category on the food guide pyramid?
Alcohol. Cheers to your health!
What is something you wish you could do every day?
Buy a new pair of shoes. -Nancy
What is the best thing you've spent money on recently?
My first house. -Nancy
What is the most dangerous thing you have ever done?
The night before my senior year in high school I joined a group of girls, went to our high school, spray painted my nickname to claim "my parking spot for the year"…proceeded to get chased down by the local police and gave a fictitious name so that I didn't have to go to the Principal's office the next day!  I was SO afraid my father, who was a law enforcement officer, would find out too!! -Nancy
To find out more about Creative Coverings, contact them at the below.
Las Vegas Office: 702.608.7368
4815 West Russell Road, Suit #13-M
Las Vegas, Nevada 89119
Twitter: Cre8ivCoverings
Facebook: facebook.com/creativecoverings