Brooke Coxen and Michael Coxen of Paper and Home are the most genuine people we know and we truly love them! We love their creativity in stationery and their willingness to always help. They were kind enough to do our amazing invitations for our First Birthday and for our Bridal Spectacular booth this summer. We have also had a ton of fun creating great stationery projects with Paper and Home including Rachel and Amar's seating chart and Tarah and Scott's invitations. Scheme Events is so glad that Brooke and Michael came from New York to open their amazing studio here in Las Vegas.

"Paper and Home is a Las Vegas design studio specializing in customized stationery for all occasions, proudly offering premium letterpress and eco-friendly options. Additionally, we offer interior organizing and space planning for households and businesses. We work with our clients one-on-one to create designs inspired by their unique taste and personal style. Paper and Home was founded in 2010 by husband and wife team, Brooke Coxen and Michael Coxen."
What are the benefits a bride will experience when using your invitation services?
We sit down and meet with each of our clients one-on-one and take the time to really get to know them. We encourage them to share their inspiration, tell stories, and express their style. We both have an inborn instinct to be budget conscious, but won't settle for less than the best. We pride ourselves in offering premium products and services, such as luxurious papers and custom design work, at a fair price. Because of Brooke's background as a professional organizer, clients will experience an efficient and well-organized approach. We ensure that our clients enjoy the process, have fun, and are fully satisfied.
What is a misconception about invitations/stationery that you'd like to address?
A misconception is that emails and evites can substitute thank you notes and invitations. Obviously, email is a necessary tool for day-to-day business and personal communication, but a hand written note is a sincere gesture of gratitude and a beautiful invitation marks a milestone. Sending personal stationery shows that you're thinking of the person on the other end, and that you've taken a little extra time to connect with them.
List 3 blogs or websites you use for inspiration.
Oh So Beautiful Paper
http://ohsobeautifulpaper.com/
Ruffled
http://ruffledblog.com/
Style Me Pretty
http://www.stylemepretty.com/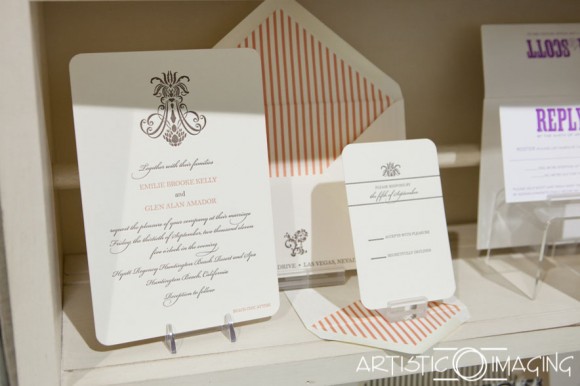 Let's Play Loaded questions with Brooke and Michael 
What are some of your hobbies outside of the wedding industry?
We love going out to hear good music at a low-key venue, and exploring the great restaurants Vegas has to offer. But, more often than not, we spend nights in, making home cooked meals and sipping cocktails on our front porch.
What did you do last night?
We ate a hearty bowl of Brooke's Bolognese before Michael went to what ended up being "a pretty bad concert." Brooke stayed home and watched a recording of So You Think You Can Dance (don't tell her who won!)
What is the strangest part of your morning or nighttime routine?
Every night, Michael goes to bed with our cat sleeping at his legs, and every morning, Brooke wakes up with it sleeping on her head. Hey, you asked.
Contact Brooke and Michael at 702.776.8243 and see more of their amazing work at http://paperandhome.com.