Scheme Events had a great time scheming up ideas for this safari baby shower for a wonderful mom to be. We began our inspiration with a giant umbrella tree commonly found in the safari. We created the truck of the tree out of butcher paper and the leaves out of green colored tissue paper. It looked fantastic and provided a great focal point in the room. The tables were covered with the same butcher paper from the trunk of the tree and a light ivory burlap table runner giving the room an organic feel. Centerpieces were created with river rock and banana leaves. The young stuffed animals were the final touch.
Signs were created and placed throughout the house with fun monkey sayings. For instance, Monkey See, Monkey Do and No More Monkeys Jumping on the Bed. Labels were used throughout food and beverage to make this baby shower truly custom.
A baby shower isn't a baby shower unless there are games to play! Mom to be wanted traditional games and we loved that. However, Scheme wanted to provided a touch of personality and cuteness to each of them. First, guests were asked to pick their favorite childhood book and write a dedication to the baby. A Perma Child Safety brand bookcase provided extra decor and a great gift for mom to be. Especially a mom as concerned with safety as she is. The Baby Animal Name Game was the perfect choice for our safari themed baby shower. We personalized it by adding a little bit of color and a cute yellow bow. The green pencils were also custom with "Lions, Giraffes and Monkeys, Oh My!" engraved in each one.
We also created a station for a baby food tasting. Guests were encouraged to taste, smell and observe eight different baby foods and guess their flavors. This game was a lot of fun and interactive for the guests. In addition, guests were able to personalize their own onesie for the baby. Scheme provided fabric paint, paint brushes and stamps for guests to be creative. They all turned out really cute and mom to be looks forward to taking pictures of her baby in each of them to share later. Lastly, guests were asked to bring diapers in exchange for a raffle ticket to win the grand prize. The table filled up quickly and we were happy to have helped mom to be with this major expense.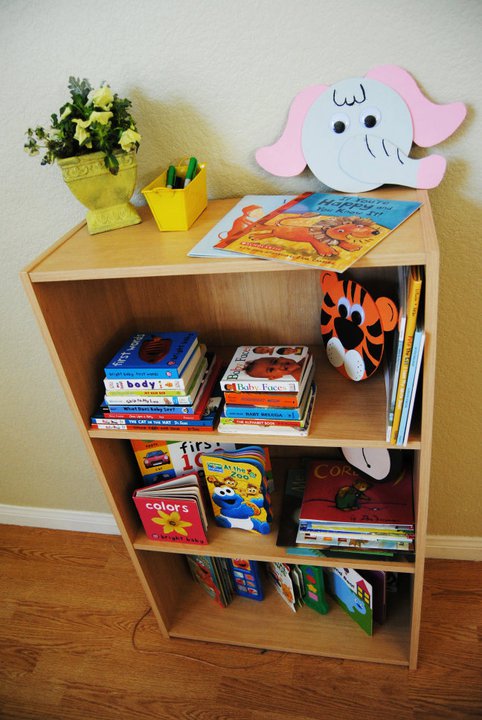 Mom to be thanked her guests for coming with animal crackers and a personalized note.
Congratulations Brittany on your new baby boy! Thank you for allowing Scheme Events to be a part of your special day.
Photos courtesy of Amanda Cox.