Enchanted Florist is filled with the most generous, dedicated and fun people to work with. Their staff consists of talented artists bringing their own unique perspectives to the company resulting in amazing floral design. Brides can be assured that Enchanted Florist will create something personal and amazing for their wedding day. Scheme Events also loves Enchanted Florist because they are dedicated to the ideals of Eco-Friendly business. They practice many techniques to ensure that their environmental footprint is as small as possible.We first met Teresa Stewart of Enchanted Florist over a year ago and  have grown to know her and the rest of the Enchanted Florist team and enjoy working with them. Please visit our Chanel N27 and Katie and Derek's Wedding blog to view more of Enchanted Florist's work.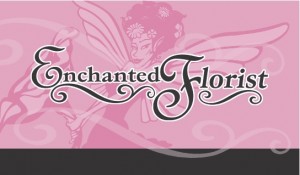 Enchanted Florist is Las Vegas' Premier floral boutique. Owners Kathryn Null and Teresa Stewart are dedicated to the creation of unique and expressive floral designs to enhance all environments. Enchanted Florist has worked with such well-known organizations as MTV, The Hilton, Vera Wang, Elton John, Americas Next Top Model,Tyra Banks, Bette Milder, Louie Anderson and the Las Vegas Convention Center, American Idol, The Las Vegas Trump Towers and The Las Vegas Wynn Hotel.  Every arrangement is special to their hand picked staff and they are excited to work with you. See below for a few of Enchanted Florist' favorite photos.
List 3 blogs or website you use for inspiration:
Name 3 books you'd suggest for a bride to read before the wedding:
Wherever you Go, There you Are
Everyday Zen
Oh The Places You'll Go!
What are the benefits a bride will experience when using your services?
Customized and non-constricted design.
What do you want a bride to know about your business?
We are not an assembly line. Enchanted Florist is a group of artist that use living fauna as our medium.
Let's play loaded questions with Teresa from Enchanted Florist…
What are some of your hobbies outside the wedding industry?
Music, Dance, Art
What is something you wish you could do every day?
Yoga
What did you do last night?
Had a philosophical debate on the Arts in Las Vegas with Melanie and Moe of Enchanted Florist.
What is the best thing you've spent money on recently?
A fantastic new handbag!!!!
What is something you want to try just once?
Climbing Mt. Fuji with my husband.
What is the most dangerous thing you have ever done?
Moved to the Navajo Nation on a whim.
What is the strangest part of your morning or nighttime routine?
Caring for my 12 year old dog's eyes.
What food do you think should have its own category on the food guide pyramid?
Smoothies
What was your first real paying job?
Cashier at Albertson's
What would you rather be doing today?
Nothing, absolutely nothing but working right here in this shop!
Enchanted Florist
3261 S. Highland Dr. Ste #604
Las Vegas, NV 89109
(702) 731-2656
efbridal@yahoo.com