Rissa has loved planning events for years.  As a young girl, she was always coordinating parties for her school, church and family.  Since then, she has graduated from the University of Nevada, Las Vegas majoring in Meeting and Events Management and completed a certification course in wedding coordination and design.  She has worked planning social events, kids parties, family events, non-profit fundraisers and weddings.  She loves designing all events, her favorites are ones filled with tradition, culture and personality!
Photo by Adam Frazier of Artistic Imaging
See below for the inspiration board Rissa created of things she loves.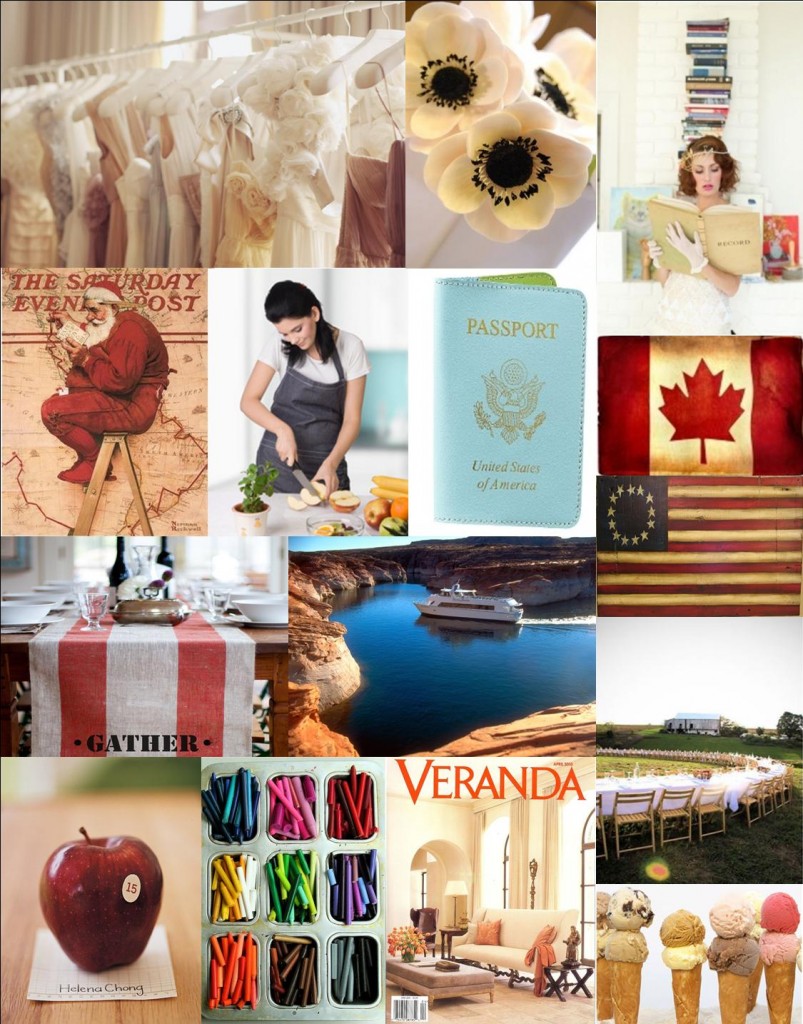 I love ruffles, bows, flowers, layering—embellishments of any kind! ● I'm obsessed with flowers. Anemones are one of my current fav's. ● Since I was little, I've been a reader.  Books are addicting; once I start reading I forget about food and sleep til I'm finished. ● Honestly, Christmas should last all year.  I play holiday songs mid June.  Don't judge. ● If I have the time, I like to cook.  I think it's really satisfying…and delicious! ● I save my pennies to travel the world.  I have a few spots crossed off my bucket list, but there is still so much to see! ● Oh, Canada!  I was born in beautiful Vancouver, British Columbia.  I moved to the States at age 7—I am proud to be a dual citizen of the United States and Canada. ● Almost every night of my childhood, my entire family ate a home cooked meal together.  One of my favorite parts of going home is getting Family Dinner! ● Cruising Lake Powell on a houseboat is my kind of paradise. ● I'd eat every meal outdoors if I could—backyards, patio seating at a restaurant, seaside piers, anywhere. ● I'm a huge nerd—I really like school, classes and learning. ●  When I'm stressed out, I grab a box of crayons and a coloring book.  Or a puzzle.  I love coloring pages and doing puzzles.  They're very calming. ● Interior Design magazines are my favorite treat for a road trip, plane ride or bubble bath. ● Gelato should have its own category on the food guide pyramid.  I die.
Let's play loaded questions with Rissa…
What is one thing you always wanted as a kid, but never got?
A sister!
What book has had the most profound impact on your life?
Calvin and Hobbs comic books.  My three brothers and I read them over and over.  Then, my mom cut them into strips and sent them to us in our lunches for school.
If you had an enormous yacht, what would you name it?
G*UNIT.  My last name is Gunderson and if you put it together it spells GUN IT.
What is your favorite form of potato?
I've never met a potato I didn't like.  Some nights, I just make mashed potatoes to eat for dinner.
What is your junk food of choice?
Chocolate covered cinnamon bears
What is your favorite travel destination?
Just one?  How about three?  Lake Powell, Sicily and Luxemburg City
What is the strangest thing in your purse?
Pottery Barn paint swatches
Which TV family would you want to be a member of?
The Kardashians–I'm telling you, I never had sisters!
What is your best celebrity spotting?
The Pope!  I attended Christmas Eve Midnight Mass in St. Peter's Basilica with my family.  Unforgettable.